Posted by JITENDER SINGH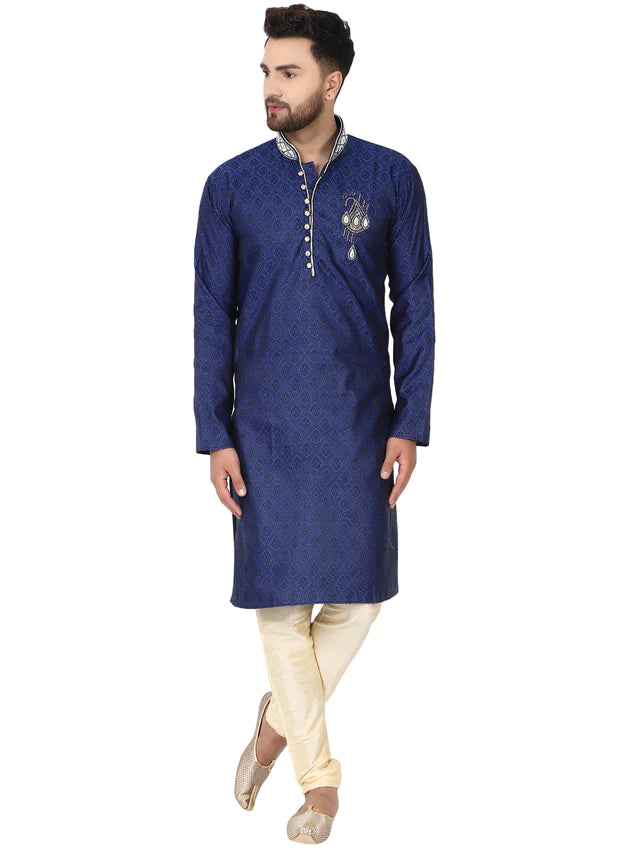 Paisley Kurta's Timeless Appeal In the world of fashion, where trends come and go, there are certain patterns and motifs that stand the test of time. The paisley pattern is one such design, weaving its way through centuries and cultures, leaving an indelible mark on the world of clothing. In this exploration, we delve into the exquisite realm of paisley kurta, celebrating its timeless charm, cultural significance, and the versatile ways it adds a touch of elegance to contemporary fashion. The Origins and Symbolism of Paisley The paisley Kurtas, characterized by its intricate teardrop or tadpole shape, has a rich...
Posted by JITENDER SINGH
This luxury traditional Indian dhoti kurta 2-piece set includes a top (kurta) and a bottom. There is beautiful weaving work on placket and collar that adds beauty to this set. Loose fitting sleeves and slits along the sides allow for an easy fit and let air circulate freely through the garment. The dhoti included in this dhoti kurta set has a relaxed fit through the seat and legs for absolute comfort. Loose comfortable fitting makes it a great wear.
Posted by JITENDER SINGH
The Kurta pajama combination is irresistible! When kurta pajama styles are modeled by our favorite celebs, these can look totally awe-inspiring! Read more about these right here- The wedding season is fast approaching, and before you know it, the invites are going to be pouring in. With Diwali around the corner as well, the mood will be celebratory, and it's up to you to match up to your spirits with outfits that make you look and feel your best. male celebrities in kurta When it comes to men's traditional clothing, the humble kurta pajama has been around for eons. It's...